Tom's Kitchen St Katharine Docks
Tom's Kitchen St Katharine Docks
Picturesque marina dining just minutes from Tower Bridge, Tom Aikens' latest restaurant and deli offers welcome respite from the areas many tourist traps.
1 Commodity Quay
London
E1W 1AZ
United Kingdom
Tom Aikens' latest restaurant, Tom's Kitchen St Katharine's Docks, is located in the picturesque marina of the same name. A stone's throw from Tower Bridge, the restaurant offers respite from the tourist traps of the area - not to mention an extensive lunch, dinner and weekend brunch menu.
The restaurant may be at the pricier end of the affordable luxury tag, but for quality and flair the menu still feels like a steal. Starters include elegant classics such as Beef carpaccio - smoked in house - Bouillabaisse and Chicken liver parfait with foie gras, with mains varying from the refined (Creamed polenta with duck egg, mushrooms and truffle) to the downright hearty (Tom's Kitchen burger with smoked Applewood and triple cooked chips). There are some nods to fine dining in there, too, with dishes such as the Seven hour confit lamb - designed for two to share - while Truffled macaroni cheese and an Aged pork cutlet served with apple caramel mash demonstrate that even robust gastropub fare receives due culinary attention.
The dessert menu makes for interesting reading, offering seasonal British classics such as Eton mess and Gooseberry fool alongside more innovative creations - Pineapple carpaccio with a pineapple sorbet catches the eye. After dinner drinkers are amply catered for, including a selection of dessert wines and after dinner cocktails. Sipping on an espresso martini and gazing out across the lit-up marina, you could almost be forgiven for pretending one of the gently bobbing yachts was yours.
Come the weekend brunch is the order of the day, with the normal menu given over to breakfast, served until 11.30am, and brunch - a pared back lunch menu - served until the afternoon. A range of fresh juices are also available, along with the ubiquitous Bloody Mary cocktail for anyone who might be in need of a pick me up from the night before.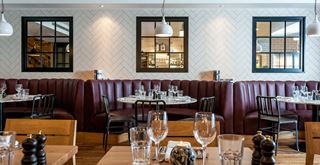 Inside Tom's Kitchen
Launch Gallery
Three things you should know
1
Tom Aikens has always been passionate about using high quality producer and seasonal ingredients wherever possible, and over the years has developed a relationship with a number of producers. These producers are praised on the menu itself, and include Lake District beef, South Coast fisheries and Clarence Court eggs.
2
While the restaurant opens from midday during the week, early risers can pick up breakfast, coffee and juices from the adjoining Tom's Kitchen Deli which opens at 7.30am. Also serving a range of take away soups, stews and pastries, Tom's Kitchen Deli is an excellent alternative to limp supermarket sandwiches for those looking for lunch on the go.
3
The restaurant offers several hire options for events, including a 16 seater private dining room. Those with somewhat more ambitious party plans will be pleased to learn that the entire restaurant - including the adjoining deli - is also available for complete private hire.
The Chef