L'Atelier de Joël Robuchon
L'Atelier de Joël Robuchon
The cuisine is modern French with Japanese influences at L'Atelier de Joël Robuchon's London restaurant, although further inspiration is taken from all over the world.
13-15 West St
Covent Garden, London
WC2H 9NE
United Kingdom
L'Atelier de Joël Robuchon is located just outside the bustling streets of Covent Garden with the vibrant atmosphere continuing into the restaurant. Opened in 2006 with Xavier Boyer as executive head chef, L'Atelier serves fusion cuisine over the restaurant's three floors. With a sultry theme of black and red décor throughout, the ground floor is alive with theatrical displays from the kitchen, overlooked by a wooden sushi-style counter with red cushioned seats. Upstairs the first floor allows for more intimacy, with tables spaced to provide a clear view of the chefs at work in the second open kitchen. The bar, Le Salon de Joël Robuchon, which is complete with roof top terrace, can be found on the second floor and allows diners to unwind with an aperitif or after dinner cocktail.
The close connection between diner and chef brings a more informal approach to fine dining. The focus is brought back to the food as ingredients are manipulated before your eyes into small tasting plates such as Caramelised free-range quail with pommes purée (a Robuchon signature dish). Throughout the menus there is a theme of classical French cooking with unique Asian influences – Miso-marinated black cod with pea and mint mousseline, or Confit veal cheek with spicy Thai jus and crunchy vegetables, for example, which are featured on the menu decouverte (menu of discovery). The theme continues onto the vegetarian tasting menu with dishes such as Soy-glazed tofu with pak choy and coconut foam. The direct line of communication between the customer and chef makes it easy for diners to communicate their needs, and for the chef to ensure their happiness and satisfaction – a key part of the experience for Xavier Boyer. Such attention detail is reflected in the many awards won by L'Atelier, including their Michelin star.
Whilst famous Robuchon dishes are a permanent fixture on the tasting menus, the lunch menu changes frequently. Plates are created in Xavier Boyer's own style, with the likes of Snails with watercress coulis and garlic crisps making an appearance.
L'Atelier's ability to collaborate with its partner restaurants enables worldwide ideas and influences to be plated up in London. After periods working at L'Atelier's outposts in Taipei and New York, Xavier Boyer has returned to his original position in London, enthusiastic about a city now famous for its fantastic food – something they can certainly find at L'Atelier.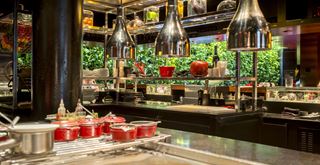 Three floors of fusion
Launch Gallery
Three things you should know
1
The name L'Atelier, translated from the French as 'the artist's workshop', is a nod to the iconic open kitchens where the chefs can be seen at work. Diners can interact and ask questions about the food as it is prepared, workshop-style, in front of them. The cooking process is transformed into performance art and as Boyer says, results in a cleaner, calmer kitchen.
2
The interior of L'Atelier takes its inspiration from nature. Hanging ivy sweeps down the back of the restaurant, while the art includes elegant displays of herbs, seeds and spices. This is a restaurant that takes pride in its ingredients, putting them on show both as decoration and in the open kitchens.
3
L'Atelier is all about personal detail. The no-boundaries approach between chef and diner allows plates to be tailored to the customer's individual needs. Xavier Boyer loves to create unique dishes for his regular guests, discussing and tasting ingredients before producing something special, just for them.
Xavier Boyer loves to create unique dishes for his regular guests
The Chef