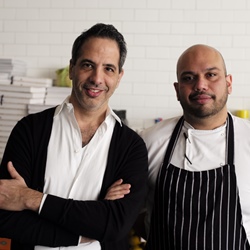 Yotam Ottolenghi and Ramael Scully
Yotam Ottolenghi is a cookery writer and chef-patron of the Ottolenghi delis and Nopi restaurant. He writes a weekly column in The Guardian's Weekend magazine and has published four bestselling cookbooks: Plenty and Plenty More (his collections of vegetarian recipes) and, co-authored with Sami Tamimi, Ottolenghi: The Cookbook and Jerusalem. Yotam has made two Mediterranean Feasts series' for More 4, along with a BBC4 documentary, Jerusalem on a Plate.
Ramael Scully – or just Scully, as he is known – was born in 1979 in Malaysia to a mother of Chinese and Indian heritage and a father with Malay and Irish blood. He moved to Sydney at the age of eight, with his mother and sister, where he went to school and then later to catering college. After several years cooking in Australia, Scully moved to London and started working at Ottolenghi Upper Street in 2005. He moved to Nopi as head chef when the restaurant opened in 2011. Scully's distinct culinary baggage – the Malaysian flavours of his childhood, his training in the European tradition, his insatiable appetite for Asian ingredients – has been the creative force behind much of what is on the Nopi menu.